EKOI Aerocomp 2 Dry full black winter skinsuit
We would like your feedback! !
Delivery and return
Shipping information to :
United Kingdom

Free shipping
Delivery between 25/01 and 26/01
Delivery in 2 in 5 days at home.
Free returns (Except sale periods)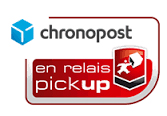 48/72 hours Europe wide delivery to your collection point.

Shipping cost £13.95
Parcels delivered to Europe in 1 to 3 days and 2 to 5 days to the rest of the world.
Summery
The fiber with DWR® repellent polymer treatment to make it waterproof & breathable.
The product +
- The combination prevents from cold air in (effective up to 5 ° with base layer clothing)
- MITI fabrics LOMBARDIA doubled windproof & breathable (thermal insulation against cold and humidity)
- Fiber very soft & warm.
- No straps for an improved comfort sensation.
- Very aesthetic as close to the body.
- Tights padding in GEL.
- Pee stop possible without removing the combination (opening on the front)
Use
- Fight against rain, cold, snow ...
- Efficient with EKOI base layer to 5 °
Technical features
- The fiber with DWR® repellent polymer treatment to make it waterproof & breathable.
- Second skin look combination (slim fit)
- Fibre thermal insulating & breathable MITI
- High neck
- 2 back pockets
- Zippers at ankles
Matérial
- Lycra MITI TEC lombardia 240 grams (made in ITALY)
- 85% polyamide + 15% spandex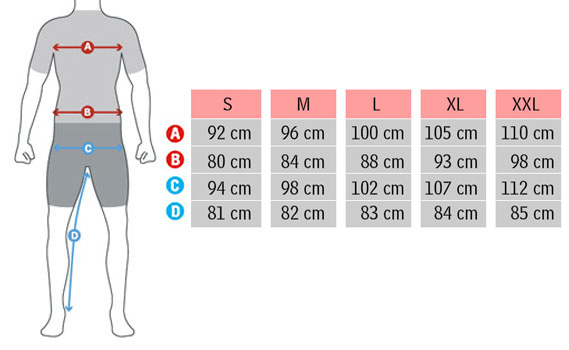 Waterproof polymer DWR: - Waterproof (liquid treatment that penetrates the tissues, liquid DWR will then harden and form a sort of shell (a view with a microscope) which is a barrier to water (It does not penetrate, droplet formation outside of the garment). - Thermal (maintains a temperature between the body and fabric and thus protects against cold) - Breathable (wicks sweat to keep the body dry) - Windbreaker (protects against wind) - Waterproof (protects against rain) - Light. - Flexible. More information : The DWR get used in time, you will also notice that the droplets will no longer slide on the garment. Do not worry, the garment will always be waterproof. It simply means that it will moisten. For maintenance and to extend the life of your clothes, apply a special DWR spray occasionally. Nirkwax the brand is known for a good DWR. Read the instructions on the bottle for best results. Apply DWR will really help your garment and extend its life. - Fiber with DWR® repellent polymer treatment to make it waterproof and breathable. - The combination prevents from cold air in (effective up to 5 ° with base layer clothing) - MITI fabrics LOMBARDIA doubled windproof & breathable (thermal insulation against cold and humidity) - Fiber very soft & warm. - No straps for an improved comfort sensation. - Very aesthetic as close to the body. - Tights padding in GEL. - Pee stop possible without removing the combination (opening on the front) - Fight against rain, cold, snow ... - Efficient with EKOI base layer to 5 ° - The fiber with DWR® repellent polymer treatment to make it waterproof & breathable. - Second skin look combination (slim fit) - Fibre thermal insulating & breathable MITI - High neck - 2 back pockets - Zippers at ankles - Lycra MITI TEC lombardia 240 grams (made in ITALY) - 85% polyamide + 15% spandex
Et voici la deuxième!!!!!!!

J'ai reçu hier ma combinaison hiver, je possède déjà la jaune et noir, maintenant que j'ai goûté à ça, je ne pense pas revenir vers le cuissard long+ maillot manches longues.
Reste plus qu'a l'essayer en conditions humides pour voir son étanchéité. Superbe réalisation de la part d'Ekoï, très satisfait du produit.
Sportivement,
Dominique F.



Superbe combinaison, qualité exemplaire à confirmer dans le temps, commandé la 1 ére en XL mesurant 1m80 pour 78kg je l'ai retourné pour une XXL qui me va parfaitement service livraison et retour EKOI au top

excelente prenda que cumple muy bien su funcion .me sorprendio mucho la verdad.

Reçu le matin et à l'essai en début d'après midi. Taille XL nickel (178 cm pour 92 kg). J'ai testé l'étanchéité en versant de l'eau sur la combi, résultat, l'eau glisse et le tissu est sec ! Sortie par 7° (ressenti 4°), légère brise, avec juste le Top EKOI Morpho en dessous de la combi. Un peu froid au niveau des avants bras en début de sortie mais bonne restitution de la chaleur. Mais comme dans la description : efficace jusqu'à 5° ! rnSinon les finitions sont comme d'habitude, nickel ! La peau gel est confortable et l'effet combi sans bretelle et très agréable !rnBref je recommande !rnPar contre petit bémol : commande passé le jeudi 23/12 à 20 h 00 pour un montant de 131 €, et le vendredi matin je la retrouve à 109 € !!!! Ok ce sont des offres, ok le prix reste correct mais sur ce coup, petite déception !

Super passform, auch für lange beine. Imprägnierung super, bei Nebel und leichtem Regen auf jeden Fall dicht. Feuchtigkeit perlt ab. Mit Thermo-Shirt drunter bis 3° zu empfehlen.

Je viens de recevoir mon collis et toute de suite essayé le combinaison. Très comfortable et super look. Merci Ekoï.

Petite sortie de 3h avec 7 degrés aucune sensation de froid à portée avec un maillot ML!!

deuxième sortie avec du brouillard et 0° et je n'ai pas eu froid ni mouillé, je l'a recommande juste un petit maillot en dessous.
et elle taille bien 1m83, 80kg taille XL, seule petit bémol une couleur plus claire et réfléchissant serait mieux.

Superbe combinaison ! Acheté 120€ Lors de la black Friday, j'ai pas pu résister, acheté le vendredi et reçu le lendemain, combinaison assez chaude à mettre avec un maillot fin en dessous. Vraiment top ????????

Completo inverno ekoi aerocomp 2 dry full black

Ho preso la taglia L (1.78m per 80kg), che mi calza benissimo....pensavo avesse il frontale con.membrana antivento, invece fa passare l'aria ed è necessario indossare un intimo antivento...
Peccato, perché sarebbe stato perfetto....

combinaison très agréable à porter... plus de retour possible vers un collant à bretelle.
j'avais le 1er modèle, j'attendais avec impatience celui-ci... pas déçu.
un modèle réfléchissant pour la nuit serait top également façon Veste thermique EKOI Sicurezza