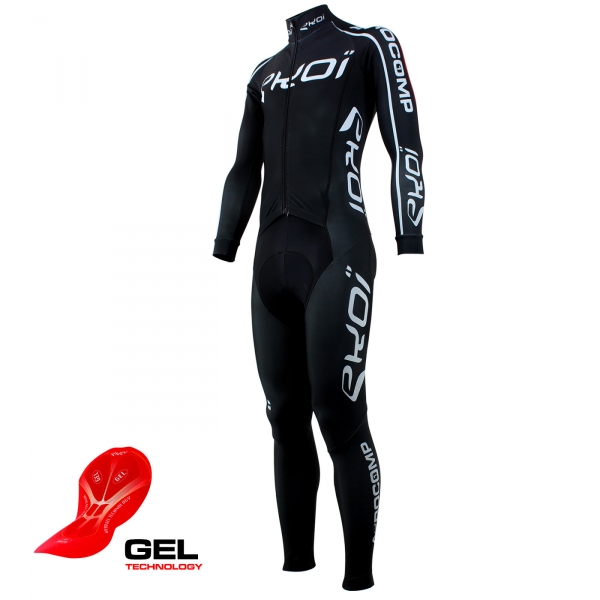 THERMAL EKOI SUIT Aerocomp BLACK SILVER
We would like your feedback! !
Delivery and return
Shipping information to :
United Kingdom

Free shipping
Delivery between 31/10 and 02/11
Delivery in 2 in 5 days at home.
Free returns (Except sale periods)

Shipping cost £13.95
Parcels delivered to Europe in 1 to 3 days and 2 to 5 days to the rest of the world.
Product Benefits:
- This gear prevents from cold air in (effective to 5° with first layer technical clothing)
- LOMBARDIA MITI lined fabrics windproof & breathable (thermal insulation from cold & humidity)
- Very soft & warm fiber
- No straps for an improved comfort
- Skinny aesthetic look
- Gel pads
- Pee-stop possible without removing the gear (opening on the front)
Use:
- Road, cyclocross or mountain bike
- Efficient with an Ekoi technical first layer to 5°

Features:
- Skinny gear (slim fit)
- Thermal insulating & breathable MITI fiber
- High Collar
- 2 back pockets
- Zippers at ankles
Materials :
- Lycra MITI TEC lombardia 240 grams (made in ITALY)
- 85% polyamide + 15% spandex
taille L pour 1m82 76 kgs elle me va nickel !!par contre les inscriptions sont plus grises que blanche ,confortable et pratique a voir dans le temps si elle ne se déforme pas mais bon chez Ekoi on est rarement décu.

1,80m et 90 Kg (ben oui avec l'âge j'ai un peu de ventre). J'ai opté pour une taille XL.
J'avais peur de ne pas être bien dedans mais surprise ! Cette combi pour le vélo est vraiment bien taillée et bien conçu (poche,possibilité d'aller aux toilettes sans l'enlever),
Aucune partie du corps ne "flotte" dedans.
Confort remarquable.
De plus,envoi très rapide avec un p'tit cadeau bien sympa.
Merci Ekoi.

1, 78m et 85 kg mais pas de ventre (!).
Les "mollets de cycliste" sont pris en compte. Ouf !
c'est impeccable en L , alors que la version été a requis un XL.
Superbes conception et réalisation pour un produit très technique ( tissu, coupe, montage) . Bien-aller parfait et sensation de liberté incroyable.
Très beau travail au rapport q/p inégalable.
Un produit tellement évident qu'on se demande pourquoi l'offre est si rare !
Une fois encore, bravo Ekoi.
Ps : contact client remarquable !

Après l'été, l'hiver. Un article beaucoup plus technique (coupe, formes, tissus) que le vêtement d'été. Réussite totale.
Toujours pour 1,78m et 85 kg, la taille L est parfaite. Seul le tour de cou est un peu étroit. Mais je pense qu'il eut y avoir des différences de bien aller en fonction
L'impression de confort et de liberté est remarquable, au point que je me demande pourquoi ... on ne trouve ce produit que chez Ekoi et que personne n'en a eu l'idée avant !
La version gris/argent: filet rouge est très sobre, ce qui correspond à un choix personnel.
Un très beau produit, à un prix très bien placé (en solde).
A noter la qualité du contact client, qui est précis et réactif.