EKOI Competition9 black thermal jacket
We would like your feedback! !
Delivery and return
Shipping information to :
United Kingdom

Free shipping
Delivery between 30/01 and 31/01
Delivery in 2 in 5 days at home.
Free returns (Except sale periods)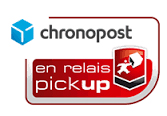 48/72 hours Europe wide delivery to your collection point.

Shipping cost £13.95
Parcels delivered to Europe in 1 to 3 days and 2 to 5 days to the rest of the world.
The product +
DROPTEX fibre (Made in Italy by VAGOTEX) integrates a technical membrane providing effective thermal protection (maintains the body at a constant temperature) - Breathable (wicks moisture to leave the body dry) - Wind resistant (protects against the wind) - Waterproof (protects from rain, hail and even snow) - Light - Soft - Comfortable
Technical features
Made in Italy - waterproof, thermal fibre (keeps the body at a constant temperature) and breathable - Lined MALTA DROPTEX fibre 270 g - Multi-cut pre-shaped panels (for an adjusted fit) with lined high collar for added protection during the depths of winter - storm flap behind the self-locking zip prevents cold and moisture seep - Upper and lower zip garages

Matérial
THERMO DROPTEX fibre integrates a technical membrane that is windproof, waterproof and provides effective thermal protection down to 0°C
THERMO DROPTEX is very soft and - Storm flap behind zip prevents cold and moisture seep
Use
For wear in temperatures down to 0°C
| | | |
| --- | --- | --- |
| S | 40kg - 60kg | 1.50m - 2.30m |
| M | 61kg - 70kg | 1.50m - 2.30m |
| L | 71kg - 77kg | 1.50m - 2.30m |
| XL | 78kg - 85kg | 1.50m - 2.30m |
| XXL | 86kg - 92kg | 1.50m - 2.30m |
| XXXL | 93kg - 99kg | 1.50m - 2.30m |
| XXXXL | 100kg - 120kg | 1.50m - 2.30m |
Machine wash at 30°C - DO NOT tumble dry. DO NOT iron.
Superb quality wither jacket

I bought 2 of these, one for me and one for my son. We have tried them in temperatures close to 0º with a this thermal base layer and they are extremely warm and comfortable. This is all you need to for those cold winter rides. Feels extremely light but warm without overheating. I cannot recommend this product highly enough.
Buy one - you will not be disappointed !!!


Très bon produit, ça fait 2 semaine que je roule avec et je suis satisfait de cette commande. Lors d'une sortie la température à varier de 0 à 14 degrés et je n'est pas eu froid ni trop chaud très bon confort avec juste la veste et un tee-shirt en dessous. Je le recommande. Le prix n'est pas donner mais c'est un investissement nécessaire pour ceux qui roule.

Qualité, livraison,échange, rien à redire
Super content

Veste thermique ekoi competition9 noir

tres bon produit , agréable a porter , coupe et finition parfaite . attention a la taille . merci EKOI

Superbe veste en noir j'ai roulé par 1° avec un seul maillot

veste thermique ekoi competition9 noir - taille : l

tres bon produit . belle coupe et finition du produit .

Veste hiver de très bon facture et performant. correspond à la description et aux attentes.
Je mesure 183 cm pour 98kg (chercher l'erreur.. ;) ) et la taille 3xl est parfaite.
Service ékoi parfait !

Sortie test d'une heure et demie ( entre 1 et 2°C avec du brouillard), avec juste un sous vêtement thermique en première couche, la veste s'en sort plutôt bien. Amélioration par rapport à la gamme 2014 (que je possède) : col qui protège mieux le cou, parties élastiques niveau taille et poignets plus confortables. Niveau taille, je confirme un précédent commentaire, une taille L est idéale pour 1.8 m et 67 kg (cela permettra d'ajouter un maiilot pour rouler à 0°C ou moins). Taille M si vous préférez porter très près du corps...

Entreno rango de temperatura 3 - 9 ºC sin problema con solo una termica debajo, talla M perfecta altura 1´70 69kg
Como la utilizo para mtb solo la pondría una cremallera en un bolsillo trasero.

SOLOGNE CE DIMANCHE 18/12/2016
1 degré sortie sur 3h30 en Sologne .veste impeccable meme pas froid
attention au taille .Tendance un peu juste

Testé ce jour par 1-3°C et coupe nickel du vent. J'avais mis un maillot technique isolant 10°C et je n'ai pas eu froid. Le look est top (raccord avec le collant) et le confort nickel. La taille impeccable (XL je mesure 1m79 avec une bonne carrure) et les mouvement sont fluides, on l'oublie. De ce côté que du bonheur! Le seul regret est qu'une poche avec fermeture zip aurait été un réel plus (genre pour le smartphone), sinon je ne peux que recommander ce produit au top!

Rien à dire pour ma première sortie à 5°C avec la veste, j'avais mis un sous vêtement + le maillot d'hiver, mais j'ai eu vraiment chaud. Un grand confort avec des conseils de professionnels. La grande distribution tel que DE...HON, pour ne pas les citer, n'ont pas cette qualité avec un tarifs supérieur.
Je conseille EKOI à ceux qui veulent avoir de très bon produits.

Veste très proche du corps idéal pour des sorties d'hivers très agréable pour rouler content de ma commande livraison tenue dans les délais avec le reste de ma commande merci ekoi

Veste bien coupé près du corps.content de mon achat
.ce qui est un peu dommage depuis que je suis clients et les derniers achats effectués je n ai pas eu de remise ou cadeaux de bon client.A part ça vous êtes bien

Fini mon vieux coupe vent absolument pas adapté au vélo
Avec cette veste très bien taillée,près du corps,dans un tissus légèrement elastique,avec l'interieur façon polaire,très agreable,sauf pour enfiler les manches
Aucun courant d'air ne passe ,ni au cou,ni aux manches,ni par le bas.PARFAIT
Il est ainsi possible de rouler avec des temperatures basses,juste avec un T shirt dessous
Col en polaire très agreable
Vive l'hiver!!!!


Partie d'une tenue complète hiver. Super confortable avec sous-vêtement manches longues. Sortie de 80 km, T 7-10°C - Vent ENE 7 km/h. Pas de transpiration et très bon coupe-vent. Taille XL parfaite pour 1,80m / 80 kg.
Livré avec le reste de la commande en 2 jours. Bravo ekoï.

veste thermique de bonne qualité, la matière est vraiment sympa. Je mesure 1m80 et 67kg, j'ai pris une taille M et franchement c'était juste. un peu court sur les bras et je n'aurais pas pu mettre un maillot manche longue en dessous (pourtant je suis plutôt fin). J'ai fait un retour et commandé la taille L.

Superbe veste ,attention à la taille !
Pour ma part j'ai pris une L pour 1.75m 70kg impeccable.



Commandé le 07/11 reçu le 10/11. J'ai pris une taille L. Je mesure 1.75 m et pese 71 Kg. Elle me va comme un gant :). Veste très bien coupé, assez près du corps. Matière agrèable et elle doit quand meme etre assez imperméble. Y a plus qu'à la porter en condition rélle mais je ne suis vraiment pas inquiet. Je recommande

Merci Ekoi pour cette livraison plus que rapide.

Le produit est superbe, par contre je m'étais basé pour la taille sur le maillot manches longues que j'avais commandé peu de temps avant, mais ça à l'air de tailler très serré, à voir si je parviens à mettre le maillot hiver plus la veste, pas certain.

Bref, prévoyez de prendre un peu plus grand.