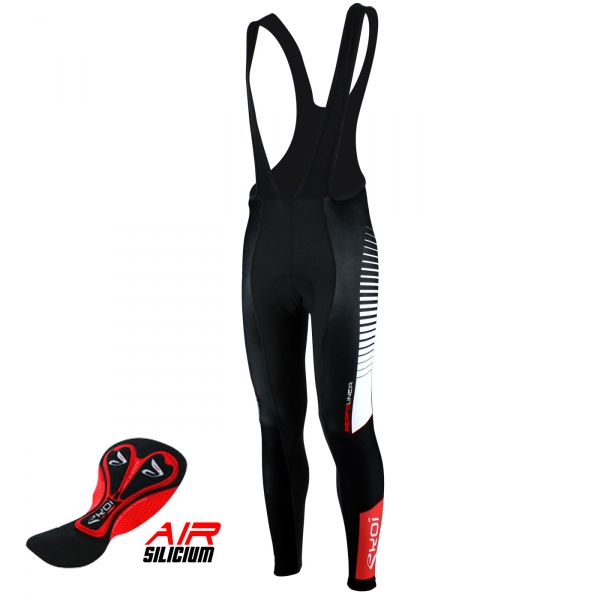 EKOI PERFOLINEA 2016 black/white gel bib tights
We would like your feedback! !
Delivery and return
Shipping information to :
United Kingdom

Free shipping
Delivery between 26/01 and 27/01
Delivery in 2 in 5 days at home.
Free returns (Except sale periods)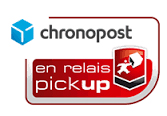 48/72 hours Europe wide delivery to your collection point.

Shipping cost £13.95
Parcels delivered to Europe in 1 to 3 days and 2 to 5 days to the rest of the world.
The product +
SUPER ROUBAIX fibre is manufactured in Italy by MITI. It is a technical fibre with the following features: - Excellent thermal insulation (protects from the cold and wet) - Optimum breathability (natural moisture wicking) - Soft and comfortable (allows full unrestricted freedom of movement) EKOI SILICON AIR PRO GEL pad: designed for long distances training or stage races and anatomy-sensitive cyclists. - High density gel pad inserts for unparalleled comfort and cushioning - Micros perforations efficiently wick moisture away from the pad - thermoregulatory anatomically-positioned channels - Soft, pre-shaped pad - Anti-bacterial treatment.
Technical features
- SILICON AIR PRO GEL pad: silicon gel + honeycomb structure allows an airflow through the pad wicking away moisture, keeping the skin dry.
- SILICON GEL absorbs road buzz allows. Pad made in Italy. - SUPER ROUBAIX thermal fibre maintains the body at a regular temperature.
Matérial
- Pre-shaped ergonomic cut
- New technology SILICON
AIR GEL PAD
- Soft and stretchable ventilated mesh straps
- Ankle zips for easy entry and exit, elasticated thigh bands for added comfort throughout the pedal stroke
- Flatlock seams
Use
- For wear in temperatures down to 0°C (Preferably worn a pair of EKOI TECHNOLITE winter cycling socks).
| | | |
| --- | --- | --- |
| S | 40kg - 60kg | 1.50m - 2.30m |
| M | 61kg - 70kg | 1.50m - 2.30m |
| L | 71kg - 77kg | 1.50m - 2.30m |
| XL | 78kg - 85kg | 1.50m - 2.30m |
| XXL | 86kg - 92kg | 1.50m - 2.30m |
Acheté en novembre.
Je fais 1m89 pour 74kg, donc L pour le poids et XL pour la taille ...
Commandé du L au départ comme recommandé par le site. Mais L trop court. J'ai renvoyé et pris du XL, à qui il manque encore 2-3 cm pour éviter que cela remonte trop au dessus des chevilles et n'étire la fibre au niveau des cuisses. Du coup ça "bade" un peu, ça fait des plis à l'arrière du genou.
La peau EKOI GEL est confortable.
Utilisé par des températures froides à plusieurs reprises entre -1 et 5°C et j'ai pas eu froids au jambe (de toute façon c'est jamais vraiment les jambes le problème quand on a froid).
Hormis le problème de taille ce collant est pas mal.

J'ai l'impression que le M est trop petit , j'aurais aimé essayé le L.
Je ne regrette pas la veste que j'ai pris en L

je n'ai jamais acheté chez ékoi ,je ne regrette pas.
seule la taille qui pour moi est du (l) je me suis reporté au guide des tailles
et le (m) pour moi est un peu un juste.
sinon je recommande.


Aprés avoir eu un conseiller avant mon achat j'ai été trés bien renseigner. J'ai déjà effectué plusieurs sorties j'en suis trés satisfait.

Hormis le tissus un peu "ample" derriere les genoux (c'est peu etre moi qui suis mal gaulé...), il epouse parfaitement les formes (M pour 1m70 et 68kg). J'avoue qu'au debut de la sortie (3°C brume) j'avais un peu froid aux jambes, mais le temps de chauffer, j'etais bien à l'aise. De plus la peau et tres confortable, du moins sur du moins de 2h de sortie (pas testé plus). Bref je ne regrette pas cet achat.

le collant en taille L trés bien je ne comprend l'écart avec la veste XL trop petit !!!

Collant ekoi perfolinea 2016 gel noir blanc - taille : xl

Comme la veste super produit doux au contact de la peau et tiens bien chaud.

Confortable et desing sympa

Très confortable et bien coupé avec effet seconde peau, taille L
Mais pour ma part (1.83 m et 80 kg) je le trouve un peu juste en longueur et pas assez serré à la naissance des chevilles . 1 cm supplémentaire et un serrage plus efficace auraient été parfaits.

Excellente coupe, il adhère bien au corps un vrai plaisir à porter.