Customize my glasses UNICA
The top configurations UNICA
EKOI UNICA

Create your own EKOI UNICA glaces according to your desires, in the colors of your outfit, your bike or your club.
Customize your EKOI UNICA glasses : 9 frame colors are available:
- 9 frame colors are available: shiny white, glossy black, yellow TOUR DE FRANCE, GIRO pink, sky blue, red, crystal, matt black, matt, carbon.
- 4 color fors adjustable nose bridges: white, glossy black, matte black & red.
- 3 colors for adjustable temples: white or black or red.
EKOI is leader in France of cycling glasses and is Fabio Aru's glasses, Alexander Kristoff, Nacer Bouhanni official partner...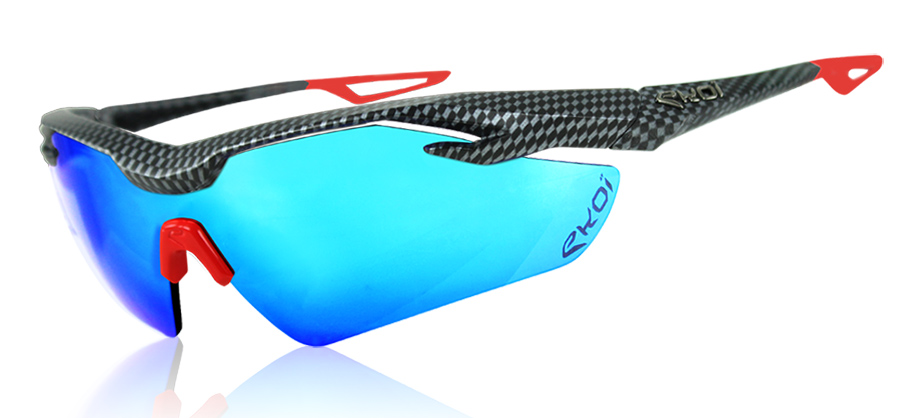 Features:

Ultra lightweight GRIMALID TR90 frame
2 vents between central frame & lens
Adjustable nose bridge
Adjustable nose bridge

Weight of the glasses: 28 gr

Lenses made in Italy:
- Unbreakable guarantee
- Increases contrast
- No optical distortion
- Anti-fog treatment
UNICA : choice of lenses:
- CLEAR SCREEN: Category 0 & 1

- YELLOW cat 0: Enhances brightness in cloudy weather & promotes concentration – 100% UV protection.
- ORANGE cat 1: Enhances brightness in overcast weather & enhances contrasts.
- BBLUE cat 1: Enhances the brightness & has a soothing effect.



These lenses do not filter the light but protect your eyes from wind, dust & possible impacts.

- SMOKE SCREEN Category 3: (wear in summer (For protection in normal brightness)
The lenses are made of unbreakable polycarbonate & provide 100% UV protection.
Smoked lenses filter sun brightness up to 92%.
Smoked lenses ave a mirror reflection that emphasizes eyes protection against brightness.

- SCREEN REVO Category. 3: Wear in summer (to fight against a strong light).
This lens is recommended for clear & sensitive eyes.
The lenses are made of unbreakable polycarbonate & provide 100% UV protection.
REVO sun lenses filter solar brightness up to 95%.

EKOI selected these lenses for their outstanding quality. The REVO treatment is more fragile but assures a higher brightness protection in intense sunshine.
Available REVO colors: REVO lenses: REVO RED / GREEN REVO / REVO BLUE.

- PHOTOCHROMIC lens Category 0-3: is shaded according to the light & can filter solar brightness has 92%.

Adapts to changing weather (cloudy, rainy or foggy) or different types or rides (woods, shadow areas, tunnels............).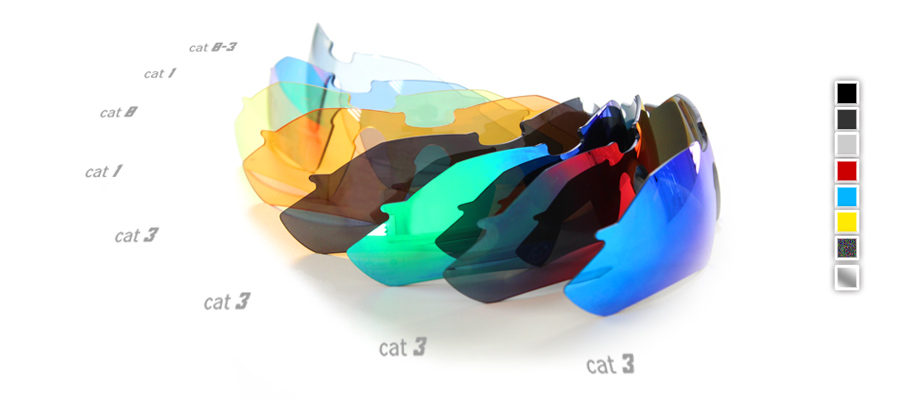 - Homologué normes CE

La norme CE 1078 est conforme aux lois en vigueur dans les pays de l'Union européenne.
Nous vous conseillons (si vous vivez hors de l'Union européenne) de vous informer sur la norme en vigueur conforme aux lois de votre pays ou de contacter notre service information produit Ekoi qui vous renseignera.