Create your Bib short
Gel Pad
Density 65
Gel Pad
Density 85
Gel Pad
Density 120
New Concept

EKOI PRO GEL MEMORY SUNLIGHT ABSORBER BIBSHORT
EKOI developed these shorts for summer.

The perforated Lycra on each side of the thighs is for breathability and indisputable comfort in hot weather. With the concept of GEL pads adapted to your weight is definitely one of the best shorts ever made in the world.
This product has been selected for the COSMO BIKE AWARDS (FAIR CYCLE Verona)




The product+ :
- Custom GEL inserts tailored to your weight
- Shape Memory Gel
- Comfort and properties of GEL inserts (absorption trauma micro perforations)
- New cut of shorts designed for summer & hot weather
- 2 different Lycra: Lycra 200 gr (black bibshort) / 230 gr (white bibshort) + perforated lycra
- Elastic 7.5 cm bands with ANTI SLIP silicone.

Use :
ROAD or MTB for comfort in summer

Features :
- 2 panels with perforated lycra part on side of the thighs
- GEL MEMORY pads for shape memory,
- Fabric mesh SPYDER ventilated & flexible straps with hole between the shoulder blades,
- 2 colors: black or white

Materials :
- Lycra 200 gr (black bibshort) / 230 gr (white bibshort) + perforated lycra

5 sizes: S / M / L / XL and XXL.

Using advice :
The perforated Lycra is more fragile than a plain lycra must therefore put with a minimum of care and pull the non-perforated Lycra shorts fit well.
This model was tested during 2000 km and was appreciated by Jeremy our tester on the Tour stage in 2016.
Washing instructions :
- Machine program 30 °
Select your GEL pad according to your weight
Current road bikes are more and more rigid, saddles are becoming lighter, country or mountain roads on which we are led to ride are sometimes in poor condition, if you drive occasionally 2 or 3 days in a row, you certainly feel discomfort at the sit bones the 2nd or 3rd day…

75% of cyclo sportsmen who ride 2/3 times a week complain of back problems ...
It is partly for these reasons that EKOI created this new exclusive concept:
EKOI PROGEL MEMORY shorts with specific gravity shape memory GEL inserts.

The GEL density is different depending on your weight to provide you a custom fit.

A custom amortized according to your weight is obvious :
The shape memory GEL inserts are designed according to the weight of the user to absorb vibrations and micro trauma to the ischial and perineal in short and long-term without alteration of the gel density. Our GEL memory form pad keeps its elasticity and its properties in time.
3 different pads according to your weight

:

- GEL MEMORY 65 BLUE : Weight < à 70 kg
- GEL MEMORY 85 GREEN : Weight from 71 to 77 kg
- GEL MEMORY 120 YELLOW : Weight > à 78 kg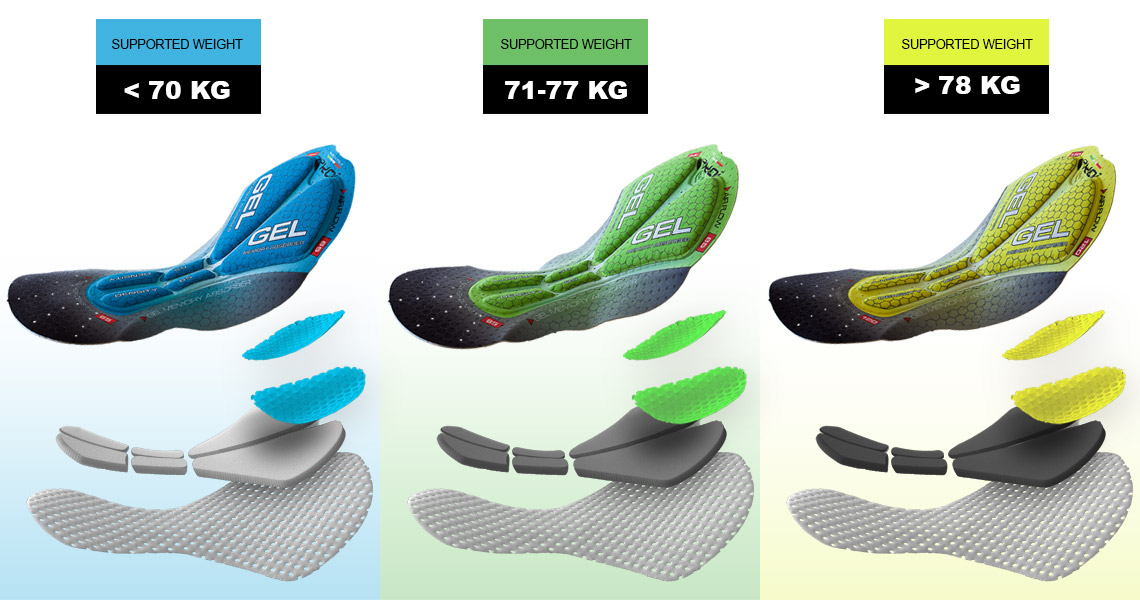 Perfect fit thanks to shape memory concept
The density of the shape memory GEL will give you a very comfortable seat at from the first trip because the GEL will fit your anatomy and press impact points while promoting blood flow.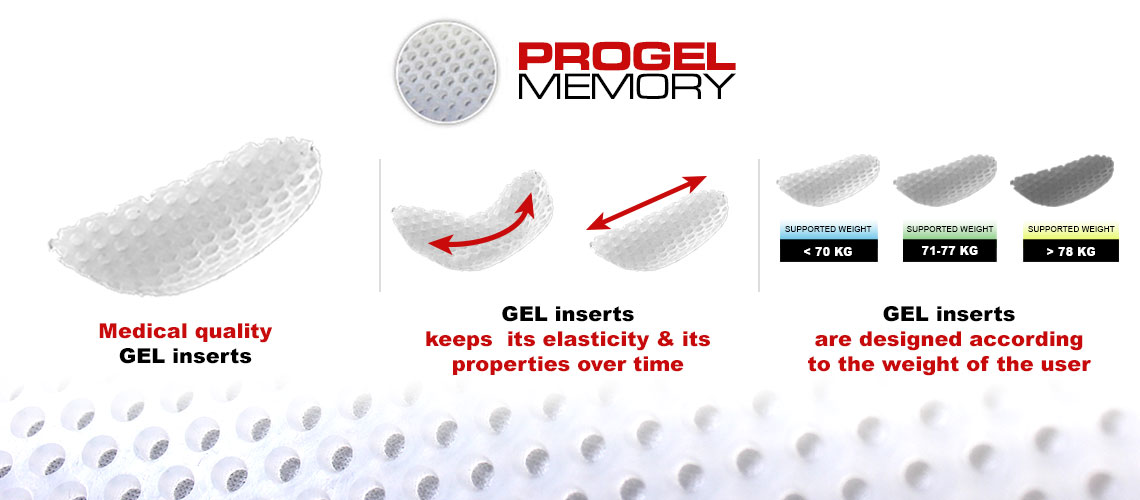 Medical quality of the gel :
by its exclusive composition our gel does not pucker, will not harden and will retain its long-term comfort properties.
Suppleness of the pads regardless of the GEL density :
Pad is flexible and adapts to pedaling movements & the shape of the saddle.

GEL MEMORY pads are made of an anti-bacterial coating
for optimum hygiene even after long hours cycling in extreme conditions.
Humidity control and sweat wicking :
Micro perforations and thermoregulatory ventilation channels on the whole pad, allow air flow and sweat wicking.


MADE IN ITALY :
MEMORY GEL Our pads have been developed and manufactured in Italy because the Italian unsurpassed know-how in this field.